'Boobalina'….Seriously, mum?
Still to this day my mum has various nicknames for me, typically involving boobs.
I wont lie and say i absolutely love having larger sized boobs, they're heavy, they can be painful, nothing fits, they're definitely MORE expensive!!! and they're just dam annoying. But they're a part of me, so i will have to accept them.
So obviously I grew up flat chested, until I got to year 6 and BOOM these melons appeared and I was like……. What????? When you're only 10 this can be a very confusing and scary experience, it definitely was for me.
I personally blame my mum and nan for getting me into this situation, like sometimes i think…
What did I do to deserve this?
And when you're ten everybody has pancakes, and they're able to wear cute cami tops and boob tubes and you're just there in a knitted sweater. Even now i still have this problem, i cant remember the last time i felt comfortable in a bikini and didn't spend half my wages on a bra. I still doubt wearing vest tops and small strapped dresses because…..
My bra straps were as thick as a seat belt…
I feel like they attracted more attention than i wanted when growing up, i didn't want people staring. It knocked my confidence soooooooo much and i would get into such a state, I still can find it so frustrating when bra shopping and have even been close to having a full on melt down in the middle of the shop as i cant ever find my size, and even if i do find my size they look like something a granny would wear.
Here are some common issues we have…
It's impossible to find cute bras that fit. All the lacy bras Victoria's Secret models wear? Look away — because YOU get a giant grandma support bra with two-inch-wide beige straps.
No bathing suits fit. Ever. Not one pieces, not two pieces.
Your back hurts.
Everyday exercises are basically not possible. There is thismuch space between my boobs and the floor during a push-up. And its just too much of an effort with these huge lumps attached to you.
You automatically look sexual in everything you wear. Your average laced leotard and v – neck dress looks cute and casual on medium- and small-busted girls but inevitably makes you look like a slut.
You have to wear more than one sports bra if you're going to attempt to work out.Sometimes two, sometimes — UGH.
The dreaded 'side boob' I say no more..
You cant wear anything backless. Yep. Say goodbye to the dream of wearing those beautiful dresses
PAIN. Even with the simplest things like running up the stairs. Its just too much.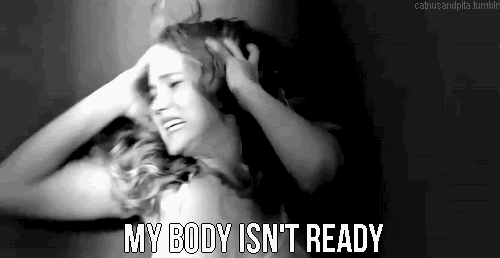 I must say it was a very difficult time growing up, especially when my friends didn't seem to be going through the same as me. Since getting older I have learnt to just be proud of what you do have, because i am pretty sure there are girls out there who don't have any, and wish that they did!!!! Like the saying 'Flaunt what your mumma gave ya' So love them will ya!
I have met so many ladies who are in my exact same shoes and it gives me more comfort to know that I am not alone….Many people spend thousands on there breasts and i guess i have them for free..
You have to choose whether to look at something as an perfection or an imperfection. In order to really love yourself as a person you have to accept what you have, those 'wobbly bits' make you, you.
Till next time,
Tay x